The History of CHRX 923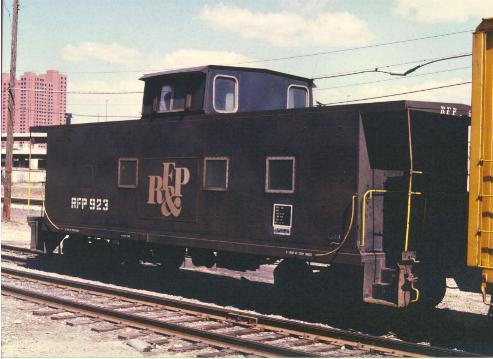 The 923 was constructed in January of 1971 for the Richmond, Fredericksburg and Potomac Railroad by the Southern Iron and Equipment of Alanta GA. The new cabeese were fabricated to replace the majority of RF&P wooden cabeese built prior to the 1920's. Safety improvements over the older wooden cabeese were safety steps, and adjustable high-back seats in the coupla, safety glass, to name just a few.
Right from the beginning the 923 was entered in to pooling service with the SCL. The service life of the 923 went through the seventies and in to the eighties. In 1982 a federal agreement was made between the federal government and the UTU was reached to phase out cabeese. But Virginian law requiring a caboose on aft of all freight trains, until it was repealed in 1988.
The 923 was acquired of the Chesapeake Division, Railroad Enthusiasts and currently is located on the Chesapeake Railroad until it's move to the Walkersville Southern for restoration, by the membership. (For more infomation regarding the 923's restoration feel free to contact the Division via E-mail, provided links throughout this site. Or write to us.)
Chesapeake Division, RRE
PO Box 397
Gaitherburg MD 20884
Email to tmoriart@tax.org


Click on the flag to return to the home page
2000 Aaron J. Heiner - Webmonster